HTML VIDEO PLAYER COMPARISON: FLUID PLAYER VS. JW PLAYER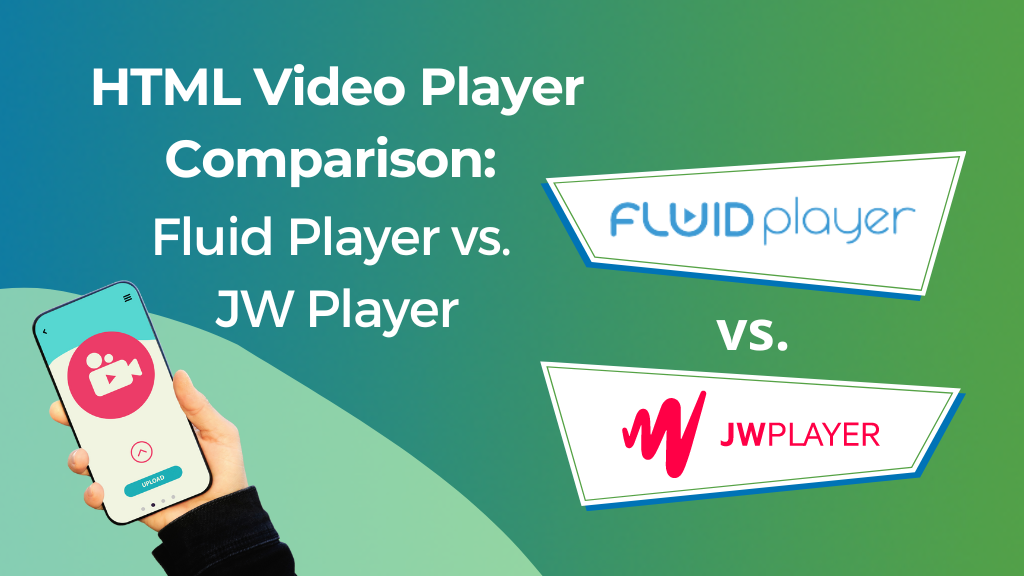 With 91% of online businesses using video as a marketing tool, online video content has become a fundamental part of digital advertising. By using video, online companies have achieved:
Audience engagement (61%)
Leads/click throughs (56%)
Brand awareness (43%)
Customer retention (42%)
Bottom line sales (26%)
If you are a Publisher and want to stream (and monetize) video content on your website, you need a great and reliable HTML5 video player that is lightweight, customizable and responsive. When it comes to HTML video player comparison, the two video players that are currently most popular in the market are JW Player and Fluid Player, and today we help you choose the right fit for your website. See each player's main key features in the table below where we have the two HTML video players compared: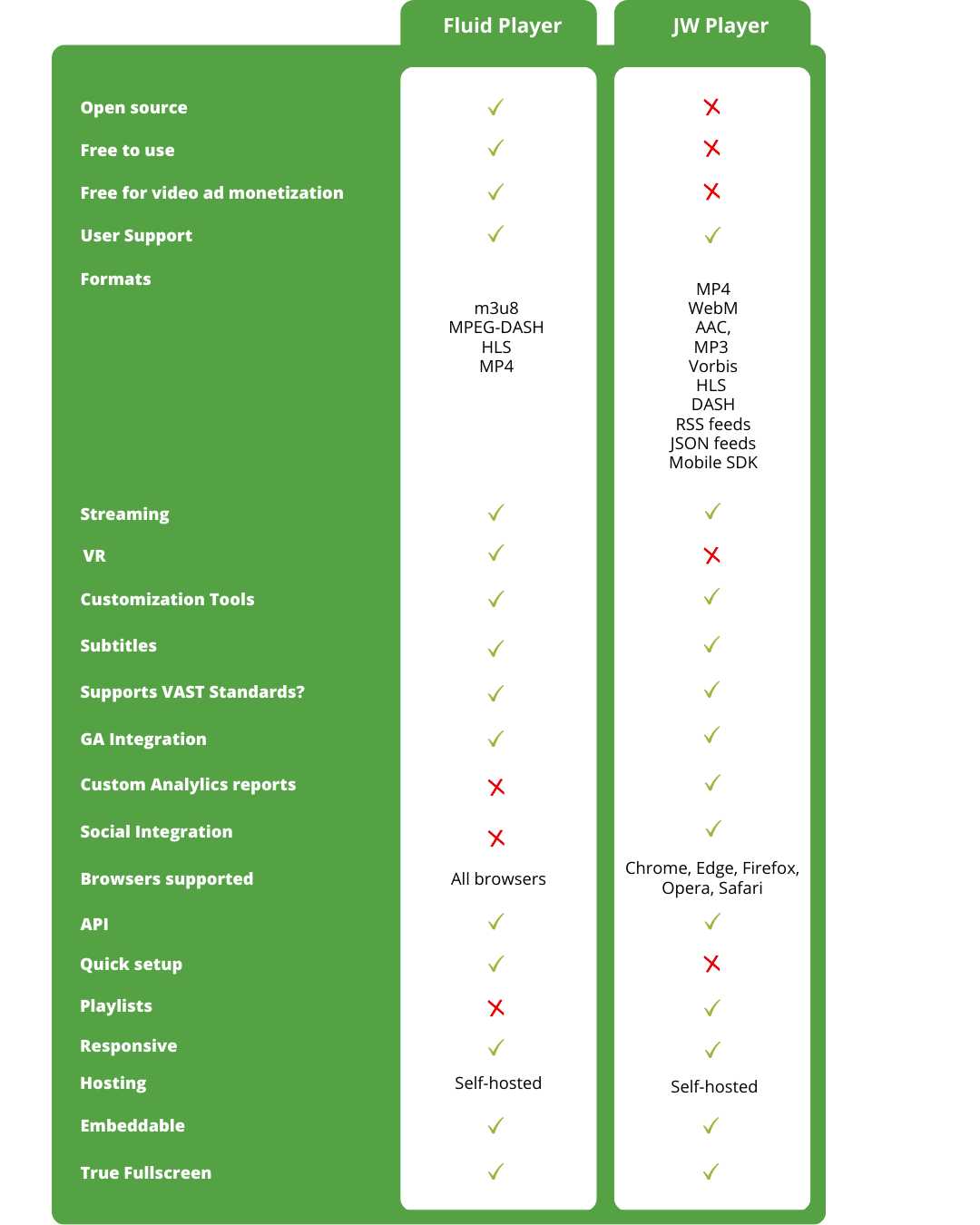 The main differences within the two players are that Fluid Player is free to use and Open Source, whilst JW Player is Proprietary Software and subscription based. Also the amount of formats supported, the supported browsers, as well as a few key features stick out as differences. Let's get hands on with the HTML video player comparison and break it down:
What is the best free video player? Analyzing Fluid Player
Let's start with the free video player review: Fluid Player is a lightweight HTML5 player that is completely free to use, open source on GitHub, both for web content and video advertising, and fully customizable – So it fits the look of your site and brand. It features lots of keyboard shortcuts – For instance, the space bar control for 'pause video', can be disabled, etc. You also get configurable Skip Ad & CTA buttons and the player is fully compatible with VAST standards. It comes with documentation, support, and many integration options.
In terms of ad monetization, Fluid Player can integrate with any ad network, ad exchange or video ad server. Ad tools include:
Pre, mid and post-roll in-stream video ads
Custom HTML banner when the video is on pause, ad text message in the top right corner of the video screen
VAST non-linear banner in-video ad overlay with image insertion (gif/jpeg/png) during video playback
Another important aspect to take into account when doing an HTML video player comparison is browser compatibility: Fluid Player supports all browsers, including Chrome and Safari, as well as some popular ones in T3 countries, such as Puffin, and Silk Browser, which are necessary browsers to use in order to reach audiences in countries such as India, China, and similar locations in T3 ad campaigns.
Open Source versus Proprietary Software: Flexibility as a tool
Open source means that Publishers can modify the design and behavior of the player, because its code is publicly accessible. That means that it is easily and fully customizable to fit the Publishers' purposes and website feel, giving them full control over how video content is displayed, including video content placed within their ad zones. However, because not everyone is an expert in code, there is also an easy setup option called The Builder, which allows you to edit some of its key features and automatically generate the code you need to add to your website, without the need of tampering with the player's source code.
Subtitles in WebVTT: The most popular caption format
Subtitles are important because they help your audiences to better understand and engage with the content and narrative of your site's videos. This is especially true for users with a hearing impairment, or that are simply browsing your page on a low volume or with no sound at all. This is key in order to keep user retention rates up. Fluid Player enables subtitles in WebVTT (.vtt), which is currently one of the most popular Subtitle and Caption formats online. Most online video hosting services, such as YouTube and Vimeo and media players like VideoLAN and VLC Media Player allow using the VTT file format files, which allow:
Text descriptions for website videos (both embedded or side-loaded)
Other metadata relevant to audio or video content
Chapters for content navigation
VR feature: Bringing the future into your ad zones
VR ads incorporate virtual reality technology in order to connect with your audience and build better brand engagement through a new, exciting and immersive experience – For instance, by interacting with a virtual character. Although VR is still in the early stages of ad format development and adoption, Fluid Player's VR feature allows publishers to experiment with VR content on their site, and enable it on their ad zones. FP supports monoscopic (equirectangular) videos with 360-degree view or in Cardboard view (for Google Cardboard.)
Google Analytics: Easy and fast integration
A last important aspect to observe when doing an HTML video player comparison is Analytics. As we can observe at the table above, unlike JW Player, Fluid Player doesn't offer custom reports and dashboards. However, this is hardly an issue, since his alternative to the JW Player dashboard is Google Analytics itself: You can easily connect it to your site's Google Analytics using a pixel, to track metrics like engagement, impressions, views, etc.
A solid Proprietary Software online video player: JW player
The second contestant of this HTML video player comparison is JWP: JW is a Proprietary Software video player which offers different subscription plans, from a basic one for $10.00, to custom pricing for enterprises. It also offers a free trial of 30 days where you can access some of the basic features to test it out. JW Player supports almost every popular video format and delivers high quality video with almost no buffering. It can be used on mobile apps through mobile SDKs and it supports custom HTML/CSS skins, as well as custom JavaScript to control its appearance and user experience.
For video monetization purposes, JW can be used with popular ad platforms like Google IMA, as well as a variety of other networks, and can integrate with almost any ad network, server or exchange. Note that to monetise your video content with JW player, you will have to purchase the custom Enterprise version. The browsers supported by JW Player are Chrome, Edge, Firefox, Opera and Safari.
Open source versus Proprietary Software: Comfort and easer
Proprietary Software means that only the original authors of JW Player can legally copy, inspect, and alter the main source code. And in order to use the player, computer users must agree (usually by signing a license) that they will not do anything with the software that the authors have not expressly permitted. Typically, Proprietary Software tends to be easier to use and more stable than open platforms – Because there's no need to tamper with the code in order to customize! It is a simple trade of flexibility for comfort, so it all comes down to the user's needs. However, remember that some Open Source players such as FP also offer easy setup tools for non-developer users.
Subtitles in WebVTT, SubRip, CEA-608 and CEA-708
JW Player offers subtitles in WebVTT, as well as in SubRip Text (.srt). and CEA-608 / CEA-708. The main difference between SRT and VTT is that SRT files are plain text files which do not contain any metadata. VTT files do contain metadata, as well as information about formatting the captions. That means that with VTT files, the user can adjust the color, font and placement of their subtitles. On the other hand, CEA-608 and CEA-708 are standards that are included as part of the video content, whilst SubRip are side-loaded. WebVTT can be both embedded or side-loaded, making it the most flexible format for online video and advertising. This is important to take into consideration because the versatility of the allowed formats is more important than the quantity of them when doing an HTML video player comparison.
Custom Analytics reports for faster business decisions
The JW player dashboard includes an analytics section that allows you to monitor your content performance and look at activity by device, geography, engagement, and more. These reports are customizable, and can include real-time analytics. It can be very useful to have all of your analytics contained in one same region of your dashboard, which you can also customize to fit your monitoring needs and watch your data real-time to make fast decisions, without the need to integrate it with Google Analytics.
Social Integration: Share with your audience
Last aspect to have both HTML video players compared, is Social Integration: JW Player can be connected to a Publisher's social media – YouTube, and Facebook. This provides an opportunity to Publishers to share their content with their Followers. After you connect your YouTube account, you can use the dashboard to publish your videos directly to the YouTube channels that you own or manage, without the need to use the YouTube platform directly. This option is available through the Enterprise Custom Subscription.
Conclusion
At the end of the day, what player you need to use boils down to your needs as a Publisher: Fluid Player is a great alternative to JW Player because you gain loads of flexibility and customization and advertising options (also, it is completely free!). Meanwhile, JW Player has got more tools that create shortcuts for a simpler experience, as well as a set of features expressly built for businesses (accessible through the Business Custom paid plan).